Are you in search of the best electric smoker for the money? Then you are landed in the right place. After keen research, we had selected the top-rated and top-selling products that are affordable too to review.
Hopefully, this will help you purchase the best one to give the flavor full end to your smoky food cravings. So let's start the review;
Quick Overview:

Top 8 Best Electric Smokers for the Money in 2023

The below table contains a full summary of the top ten electric smokers for the money, Here you will find the best deals on electric smokers for the money.
Image
Product
Details
Price
Char-Broil Digital Electric Smoker
Weight: 50.2 lb

Dimensions: 16.5 x 18.1 x 32.5 inches

Cooking Surface: 725 sq. inches
Check Price
Bradley BS611 Electric Smoker
Weight: 55.1 lb

Dimensions: 34 x 20 x 18 inches

Cooking Surface: 975 sq. inches
Check Price
Masterbuilt Analog Electric Smoker
Weight: 49.9 lb

Dimensions: 20 x 21.69 x 40.15 inches

Cooking Surface: 532 sq. inches
Check Price
Dyna-Glo Digital Electric Smoker
Weight: 62.2 lb

Dimensions: 19.4 x 19 x 32.5 inches

Cooking Surface: 732 sq. inches
Check Price
CUISINART COS-330 Electric Smoker
Weight: 51.5 lb

Dimensions: 22 x 19 x 37.5 inches

Cooking Surface: 548 sq. inches

Check Price
Old Smokey Electric Smoker
Weight: 24 lb

Dimensions: 15.5 x 15.5 x 29 inches

Cooking Surface: 282 sq. inches
Check Price
LANDMANN MCO Electric Smoker
Weight: 33 lb
Dimensions: 26.7 x 16.6 x 13.2 inches
Cooking Surface: 443 sq. inches
Check Price
Masterbuilt Smoke Hollow Digital Electric Smoker
Weight: 46 lb

Dimensions: 18.54 x 18.19 x 33.35 inches

Cooking Surface: 730 sq. inches
Check Price
In-Depth Review:

 Top 8 Best Electric Smokers for the Money in 2023
Here you will find honest and unbiased reviews on top electric smokers for the money.
1.
Char-Broil Digital
Electric Smoker
Char-Broil 17202004 is a well-sized, affordable, and master built electric smoker. The large glass door is the plus point; it allows you to see into the smoker without opening the door, and the heat and smoke do not let out.
With 725 square inches of cooking capacity, it offers more space than other traditional smokers. The large smoke box contains wood chips that provide greater smoking capacity from four to seven hours on each fill.
Four adjustable racks give a variety of cooking options to you, and it comes with removable and easy to clean components; a grease tray, a smoker box for wood, a water pan, and one meat probe with wire. Each rack can handle ten pounds of meat quickly.
Besides, racks wires are spaced far from each other for even smoking and meat security. This electric smoker has a removable water pan that helps in keeping the meat moist.
The dual-tone finish of silver and metallic colors, top rounder edges, depressed digital readout, and a built-in handle give it a modern look than other competitors within an affordable range.
Stainless-steel exterior walls provide plenty of strength to it and hold up the heat efficiently. Further, the dual walls feature keeps the heat inside and make it more durable.
Easy to read digital display with seven buttons allows easy and fast access to different functions, including, off and on power button, up/down button for increasing or decreasing temperature, time button for switches to time input, and chamber light off and on the button.
Next, a bonus feature of the remote control makes more easy and fast access while sitting far away apart from it. Second, the insulated walls prevent the smoker from overheating.
Plus, an added feature is a built-in safety function that shuts down the smoker if it works over nineteen hours in operation without a break.
2.
Bradley BS611
Electric Smoker
Bradley Smoker BS611 is a budget-friendly pick and the best smoker for grilling and smoking enthusiasts. With four rack units, it comes under world-class smokers.
Consisting of two parts; the first dial generator for wood filling and a second heater that seems like a refrigerator where you can smoke up your food.
The elegantly designed door holds a rubber strap that provides insulation. A drip bowl is also present inner the chamber bottom where used wooden chips fall.
Then the actual heating part of the stove comes at the back bottom of the cabinet. This part is responsible for producing heat and creating smoke from the unit.
Due to construction with epoxy steel powder, it is a robust unit for outdoor smoking, so you can enjoy using it for indoor and outdoor purposes. Meanwhile, stainless-steel interior ensures temperature maintenance.
A myriad of premium features will offer extraordinary smoking on it, and digital control guaranteed that the smoker timing would be a breeze for you.
You can stand or balance it on any terrain due to holding a set of large feet. It's a great companion if you want grilling or smoking for fun.
Bradley smokers are well known for providing remarkable consistency in terms of delivering and creating the purest smoke.
Thanks to its CleanSmoke Technology, which uses uniquely-designed natural wood smoking Bisquette, this allowed smoked for a precise and calculated amount of time. Hence, you will enjoy the consistent, delicious, and high-quality smoke flavor.
Further, it allows a wide variety of foods to smoke simultaneously. It effectively smokes traditional favorites like pork, beef, fowl, sausage, vegetables, and jerky.
Another feature that makes it the best electric smoker for the money is its cold smoke adapter, so you may cold smoke nuts, beer, whisky, wine, and much more.
3.
Masterbuilt Analog
Electric Smoker
Masterbuilt is an analog electric smoker with perfect family size and dual wall insulation system. At a temperature from 100°F to 400°F you can smoke any food in it.
Suggested model for those who want to smoke food without any hassle. With the cooking space of 548 square inches, you get on three chrome-coated racks.
It is easy to use smoker has easy to read temperature gauge for efficient handling. Besides, the doors have a built-in temperature gauge that will ensure that the smoker temperature is controllable easily.
However, for more temperature assurance using a meat probe thermometer is the right approach.
Dual-wall insulation ensures that the smoker's heat is safe; the 1500-watt heating element produces this heat. Presence of a water pan and wood chip tray guaranteed that the smoking position is the spot.
Moreover, removable parts allow you easy cleaning, and drip pan remover is an added feature to this model.
Besides, the size is perfect for friends and family gathering as it serves four chickens at a time. A pretty simple design with black color out finishing makes it a decent and eye-catching smoker. Further, its black color feature fits in with any kitchen décor beautifully.
According to the price perspective, it is the best electric smoker for the money with premium features. You can purchase it at an affordable price and use it with a lifetime guarantee.
Last, cast iron manufacturing of this Masterbuilt MB20070210 stands among the durable products in the market.
4.
Dyna-Glo Digital
Electric Smoker
The Dyna-Glo DGU732BDE an electric smoker that offers a convenient smoking experience to you with its extraordinary features. These features simplify the cooking procedure and provide smoky flavor food.
Plus, it eliminates the propane or charcoal hassle and maximizes the smoke flavor in your food. Your serving will up savory smoked meals within few minutes smoking timing.
The digital push-button controls feature allows you complete monitoring while cooking process. You may set the desired temperature and cooking time with the controls for efficient working.
The internal temperature of food is determinable by an integrated digitally controlled thermometer. An 800-watt burner controlled by a thermostatic system maintains the required temperature.
With a capacity of 732 square inches, you can smoke large meat pieces easily, and the three racks chamber allows you a variety of smoking in no time.
This digital electric smoker's most exciting feature is its RF remote; this lets you easily control without a physical push of buttons.
A wood chip loader can fill up with full woods to maximize the heat capacity and minimize heat loss. These wood chips get filled into the smoker from the side; it makes it easy to refill without opening the door; hence no heat and smoke loss occur in loading wood chips.
Not to need more, cook the meat slow and low, form the brisket to ribs, and give an end to your cravings with this digital electric smoker. Further, whether you are a newbie or a professional smoker, try it for once and find the best one for your home.
5.
CUISINART COS-330
Electric Smoker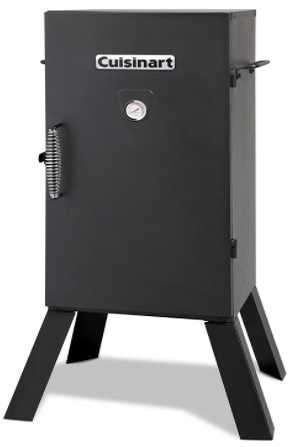 Are you looking to buy your electric smoker; then Cuisinart Cos-330 is the best option to choose. These hot smoker rack chambers let you roasting, cooking, smoking all types of veggies and meats.
This top rated electric smoker for the money is highly rated and a consistent selling product in the market. Try it for once and make your smoking experience more beautiful rather than the imaginations.
This fantastic product holds 548 square inches of smoking capacity, and it smokes a wide variety of food in it. Besides, three adjustable racks provide you extra space for smoking various dishes at the same time.
Hence, using it means making the nights more delicious with smoky flavors food. An internal chip box offers forty-five to sixty minutes of smoke before you have to charge it.
Compact size offers easy to maneuver and space-saving feature to you. Besides, its opaque front door design ensures everything is in control and secure while smoking.
A 1500-watts of powerful heating elements are quite excellent for heating wood chips; this controls the temperature and generates smoke efficiently.
Another added feature is an insulated box that maintains the heat and vapors inside, so the resulting smoking is lovely.
On the side of this smoker, a temperature dial regulates the heater output element and keeps the unit at its desired temperature for excellent smoking. The internal temperature ranges between 100 to 400 degrees that give the smoking process a goose bump.
An electronic heating element let the wood chips burning consistently while the smoking process is going on. However, the chips refilling is pre-inserted, so it is necessary to fill it at its maximum limit before using it.
Moreover, three adjustable steel shelves make the smoking, roasting, and cooking process more comfortable. A removable drip tray features slopes slightly, making the collection process effortless in the bowl underneath.
6.
Old Smokey
Electric Smoker
The Old Smokey is essentially an electric smoker with a vertical metal barrel with a heating element and drip tray. It has good quality and durability at a low price. The reason for that is its simplicity.
It is rustic design makes it very attractive. The simpleness of its design is what makes this smoker great, and it's not hard to use, even for inexperienced people.
Buy an Old Smokey electric smoker because it may be the one for you that is available at an affordable price with the maximum smoking capability.
The best thing about this electric smoker's design is manufacturing with corrosion-resistant steel, making it very durable with a heating element of 1250W/120V.
The electric heater is pretty good. There are no ashes produced, the risk of accidental fire is minimal.
The Old Smokey electric smoker's best feature is that it comes with a sealed lid, which doesn't allow any of the meat's juice to fall outside, making it very easy to clean.
Moreover, it ensures that the steam and the heat stays inside, which gives it the juiciest and enhanced taste. Old Smokey Electric Smoker is a quality choice for those who have been working for years.
Anyone interested in making delicious meals with smokers should make this unit a great addition to their backyard. The simplicity of these devices means that most anyone should be able to compile and use them successfully.
It's intended to use the drip pan to capture the excess moisture expelled from the meats at the airtight cooker. It is simple to install, operate, and you have to plug this in to begin.
7.
LANDMANN MCO
Electric Smoker
Try LANDMANN MCO 32954 if you are unfamiliar with smoking food. Honestly, it will be the best one that is beyond your imaginations. This very easy to use a product of LANDMANN let the most delicious smoking ever.
Its premium features and extraordinary working capability come in the best electric smoker for the money. Compact space-saving design with three combo wood trays, a water pan, and a greased pan are the premium features.
It has a window with full view capability, so you haven't worried about losing heat or smoking while checking the meat through this window. Smoke your favorite dishes to their maximum power heating capacity.
It has optimized cooking/smoking capacity with easy to clean plated grates means meat the required smoking level you want in your food.
The handle is an additional feature that eases the mobility process to different locations. Its lightweight feature makes it ideal for changing location and for small spaces.
The heating element of 1500-watts provides maximum temperature and adds flavor to the smoke evenly. Moreover, a temperature gauge is present on the door that provides optimum temperature control over it.
Plus, a removable variable for temperature control and separate heating element offers excellent holding over the smoking food.
Furthermore, it holds a rear damper port, iron side handles for transport, and adjustable feet to balance it on uneven surfaces.
Last, efficient performer deliver, and a top-selling product in the market due to its affordability range and décor of a kitchen with its metallic black finishing.
8.
Masterbuilt Smoke Hollow
Digital
Electric Smoker
This entry-level electric smoker Hollow SH19079518 comes with standout features at an affordable price. With 800-watts heating element power and insulated body, it rated in the top-selling products.
With an integrated air dampener, you can control the smoking amount while processing. It is very easy to use and only takes thirty minutes to set up, so it is a time-saving product of the Masterbuilt.
Three adjustable racks give a variety of smoking options to you, and it comes with easy to clean parts, including a grease tray, a box for wood, one meat probe with wire, and a water pan. Each rack can handle up to five pounds of meat easily.
This best electric smoker for money serves two chickens, so it is perfect for family size smoking. A pretty simple design with black color out finishing gives it a decent look and eye-catching view.
Besides, its black color feature fits in with any kitchen décor beautifully. Stainless-steel manufacturing of this Masterbuilt model stands it among the most durable products in the market.
An insulated box that keeps the heat inside lets the full of flavor smoking to your favorite dishes. A temperature dial regulates the heating element and maintains the unit at its required temperature for remarkable smoking.
The internal temperature ranges between 100 to 400 degrees that give the smoking process a goose bump.
It allows effectively traditional smoking to your favorites like pork, fowl, sausage, and vegetables. Its cold smoke adapter is another bonus to this sleekly designed smoker that lets cold smoking of beer, whisky, wine, and much more.
This digital smoker gives you easy and straightforward cooking through its predefined settings, so you haven't to worry in case of unfamiliarity.